Solid Painting ₹ 2199*
Mostly Solid paints applied on vehicles are red, white, black and blue which are usual solid colors.The solid paints are formulated to contain a less volatile organic compound concentration and a high resin concentration. However with solid paint, you can easily encounter visible dents, scratches, and other forms of minor damages.
Metallic Painting ₹ 2499*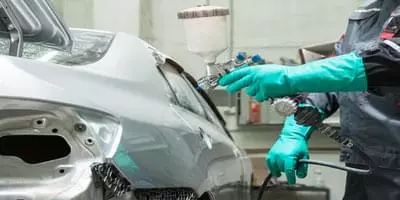 Metallic paints have metal particles present in them, which pick up as well as reflect light incidents than solid paints. Metallic Paints offer a vehicle an appealing shine appearance that is greater than what their counterpart solid colors offer. Also good part about metallic paint is that they can help you hide minor damages.
Frequently Asked Questions (FAQs)
Yes. You are eligible for 2 years of paint warranty for any denting painting services availed with Automovill. In case of rusting Automovill gives 1 year of Rust Free warranty on the work done.
Yes, Automovill uses the exact colour code which is mentioned in the RC copy of the car when painting is done in the car. However we do see slight mismatch in case the colour on the non-painted panels are faded already. In order to match Automovill provides a complementary polishing of the car after every painting.
For painting process to be full proof it takes minimum 14 hours (surfacing, putty work, coat 1-2-3, polishing, washing). We need to keep minimum 3 hours for drying with natural light for colour to exactly match. For full body painting it takes 7-10 working days as we remove the seats, mats and other accessories from the car before painting.
Automovill has tie up with all major insurance provider for all accidental repair.
Alloy wheel painting is not part of the car body painting. It has an additional cost.
Car painting is done as per the colour code mentioned in the RC card of the car.